---
---
PHOTOGRAPHS AND FOOTNOTES
(Daily Express No. 12,797 Saturday, May 31, 1941).
1). Front page.

SURVIVORS from the Bismarck are hauled aboard a British warship while hundreds more swim in gale-swept waters. More than 2,000 men were on board. A hundred were saved.

Eight or nine torpedoes and scores of shells hit the Nazi battleship before she finally heeled over with her crew swarming like black dots on the hull.

ONE OF THE HUNDRED SAVED


IN Britain - without setting foot on it. A thick bandage over one eye and dressed only in jacket, underpants and socks. . . . A wounded German sailor from the Bismarck is carried up a gangway by a British soldier.
---
2). Third page.
Germans in hundreds leaped into the sea as Bismarck sank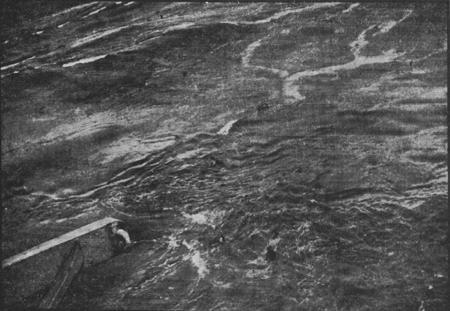 GERMANS swim from the Nazi battleship Bismarck towards a British warship in gale-swept waters. . . . Hundreds of them struggled in the sea after the Bismarck went down. They had been unable to launch boats ; had no rafts or floats. . . . Germans themselves ended rescue work. Ropes and lifebelts had been thrown from the rescuing warship. Loops were placed round the shoulders of men too weak to climb. Hundreds more might have been saved, but a Nazi submarine was sighted - then a flight of German aircraft. So the warship had to leave. But first rafts and lifebelts were thrown into the sea. - Exclusive Daily Express picture.

"Chilled, weary, punch-drunk from two hours of heavy-shell salvos, the Bismarck's survivors had no spirit left."
. . . Here is another of them, wounded, helped ashore by British soldiers . . .


. . . But these German sailors have recovered their energy again, and seem glad enough to step ashore, even as prisoners of war. The one in the lead has a bundle of personal papers tucked inside his trousers belt.
---
Back to: Printing Press | On-line Archive