---
---
Article from the Daily Mail No. 14,868 of December 28, 1943. Page 4.
Scharnhorst, the Pride of Germany's Fleet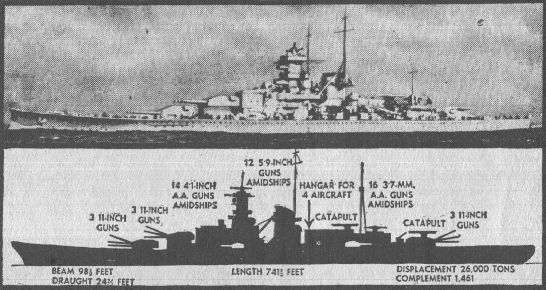 This was the Scharnhorst, Hitler's last capital ship in commission. Lower picture shows her strength. With nine 11in. guns and a speed of 32 knots, she was a constant menace to Allied convoys. Now that menace exists no longer.
Diary of a 4-Year Sea Hunt
These are the highlights in the relentless air-sea hunt of the Scharnhorst:
October 4, 1936.- Launched at Wilhelmshaven; put into service in January 1939.
April 9, 1940.- Damaged in running fight off Norway with British battle-cruiser Renown.
June 20, 1940.- Hit by Fleet Air Arm planes off Trondheim Fiord; also hit by submarine Clyde when she left Trondheim for repairs.
July 2, 1940.- Hit in Kiel Harbour by R.A.F. bombers, which again attacked in September. April and May 1941.- Attacked in Brest Harbour by R.A.F.
July 23, 1941.- Hit many times by R.A.F. as she made her way to La Pallice, 240 miles from Brest.
February 12, 1942.- In company with the Gneisenau and Prinz Eugen she left Brest and made a dramatic dash up the Channel; attacked and damaged by the Fleet Air Arm and R.A.F.
For the next 17 months the Scharnhorst was believed on various occasions to be in the Baltic and in northern Norwegian waters. After the September 1943 raid with the Tirpitz against Spitzbergen she was reported in Alten Fiord. Then -
December 26, 1943.- Brought to action and sunk by ships of the Home Fleet.