---
---
Article from the Daily Mirror No. 11,867 of December 23, 1941. Page 3.
You're looking, below, at Brest being bombed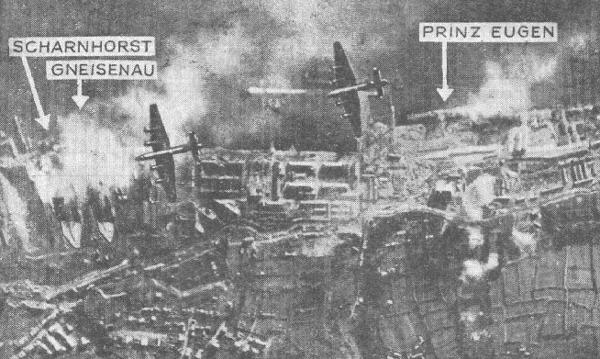 Perhaps you remember that we bombed Brest in daylight one day last week. R.A.F. photographers took pictures of the attack and here is one of them. At the top of the picture you will see two Halifax bombers turning after they had dropped bombs. If you look at the left hand top corner you'll see bomb-burst on the dock in which the Schanrhorst and the Gneisenau are lying. And the white puffs in the centre of the picture are more bomb burst.
CAMERA TELLS SECRETS OF BREST DAYLIGHT RAID
THREE of Germany's best warships -the Scharnhorst, Gneisenau and the Prinz Eugen- are still bottled up in Brest. The R.A.F. just won't let them out. Where the bombs fell in the big daylight raid on December 18 was told yesterday by Air Ministry news service explaining the photographs taken while the armour-piercing shells were raining down and after the attack. The Scharnhorst and Gneisenau were attacked, as they lay in two dry docks side by side, with heavy armour-piercing bombs which send up a great volume of smoke. The problem of photographic interpretation is to discover from a series of photographs exactly where the bombs hit.
"Appreciable Effect"
It is certain a heavy armour-piercing bomb fell between the starboard side of the stern of Gneisenau and the side of the dry dock in which she lay. The distance between the ship and the side of the dock is only twenty of thirty feet and the effect of an explosion in this confined space would be appreciable. Another bomb fell between the port side of the stern of the Scharnhorst and the side of her dock. There is reason to believe that a heavy bomb fell amidships.