---
---
H.M.S. SUFFOLK LOGBOOK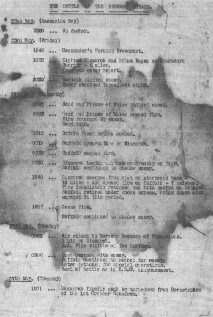 --------------------------------------------------------------------------------------
THE BATTLE OF THE DENMARK STRAIT.
_____________________________________________
22nd May. (Ascension Day)
2330 *** Up Anchor.

23rd May. (Friday)

1845 *** Commander's Warning Broadcast.

1922 *** Sighted Bismarck and Prinz Eugen on Starboard

Quarter - 6 miles.

Sent out enemy report.

2032 *** Norfolk sighted enemy.

Enemy shadowed throughout night.

24th May. (Saturday)

0547 *** Hood and Prince of Wales sighted enemy.

0553 *** Hood and Prince of Wales opened fire.

Fire returned by enemy.

Hood sunk.


0618 *** Battle Fleet action ceased.

0619 *** Suffolk opened fire on Bismarck.

0625 *** Suffolk ceased fire.

0730 *** Bismarck losing oil and apparently on fire.

Suffolk continued to shadow enemy.

1840 *** Bismarck emerged from mist on starboard beam -

10 miles - and opened fire on Suffolk - 7 salvoes.

Fire immediately returned and hits scored on Bismarck.

Suffolk retired under smoke screen. Prinz Eugen also

engaged in this period.

1856 *** Cease Fire.

Suffolk continued to shadow enemy.

25th May. (Sunday)

0001 *** Air attack by Torpedo Bombers of Victorious.

1 hit on Bismarck.

A.A. Fire visible on the horizon.

0306 *** Lost contact with enemy.

Suffolk continued to search for enemy.

Later detached for special operations.

Rest of battles as in B.B.C. announcement.

27th May. (Tuesday)

1101 *** Bismarck finally sunk by torpedoes from Dorsetshire

of the 1st Cruiser Squadron.
---
Back to: On-line Archive