THE HEAVY CRUISER BLÜCHER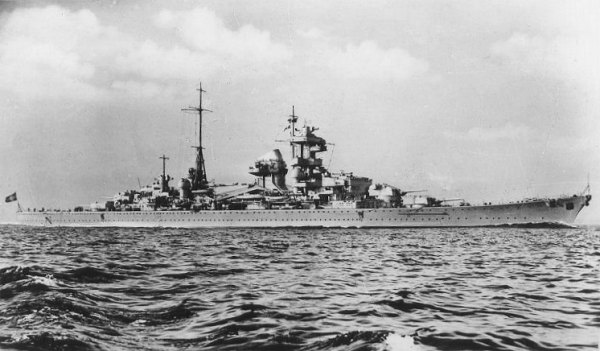 The heavy cruiser Blücher shortly after being commissioned.
---
CAREER TIMELINE
15 August 1935: Lay down on Slipway 2 at Deutsche Werke, Kiel. Construction number K 246.
08 June 1937: Launched. Named after Prussian Field Marshal Blücher who defeated Napoleon at Waterloo. The final cost of the new ship will rise to RM. 87.8 Million.
20 September 1939: Commissioned under Captain Heinrich Woldag.
27 November 1939: The Blücher leaves Kiel for the first time and sails east to the Baltic in order to conduct trials.
30 November 1939: Anchors in the Gulf of Danzig.
01-15 December 1939: Stationed at Gotenhafen.
15 December 1939: Departs Gotenhafen and heads back to Kiel.
16 December 1939: Arrives at Deutsche Werke, Kiel.
16-31 December 1939: Fitting out at Kiel.
08 January 1940: Leaves Kiel again for the Baltic.
09-15 January 1940: Conducts trials in the Baltic.
18 January 1940: Back in Kiel.
27 January - 30 March 1940: At Deutsche Werke Kiel.
23-29 March 1940: Drydocked at Deutsche Werke Kiel.
05 April 1940: Combat training with the light cruiser Emden.
06 April 1940: Operation Weserübung. Konteradmiral Oskar Kummetz comes aboard and makes the Blücher his flagship. The ship embarks 900 soldiers of the 163rd Infantry Division (Generalmajor Engelbrecht) at Swinemünde.
07 April 1940: At 0600 hours, the Blücher, the light cruiser Emden, and the torpedo boats Kondor, Albatros, and Möwe, leave Swinemünde and head West. Once underway, Captain Woldag informs the crew of their mission; landing at Oslo. Shortly afterwards, motor minesweepers R18 and R19 join the squadron forming Battlegroup 5. Towards the evening the group anchors in the Kiel Fjord. The heavy cruiser Lützow (ex-Deutschland) joins as well.
08 April 1940: At 0300 hours, Battlegroup 5 weighs anchor and heads North. During the night the German ships pass through the Great Belt and then reach the Kattegat.
09 April 1940: Shortly after midnight, Battlegroup 5 enters the Oslo Fjord. At about 0100 hours, Blücher transfers 150 soldiers to R18 and R19 with the task of taking the islands o Rauöy and Bolærne. After that, the German ships steam into the fjord. The Blücher leads the group, followed by the Lützow, Emden and the torpedo boats. At 0518 hours, as the Germans near the Drøbak narrows, the Blücher comes under fire from the Norwegian shore batteries (3 x 28cm guns) at Oskarsborg fortress. The cruiser is hit at short range on the port side. Blücher returns fire ineffectively. At 0530 hours, the ship is hit by two torpedoes on the port side. The Blücher finally capsizes and sinks at 0727 hours off Askholmen island with heavy loss of life. Position 59º 42' 05" North, 10º 35' 32" East (see the map below). Over 970 men manage to reach the nearby shore by their own. Including among the survivors are Konteradmiral Kummetz and Captain Woldag.

View Blücher Sinking in a larger map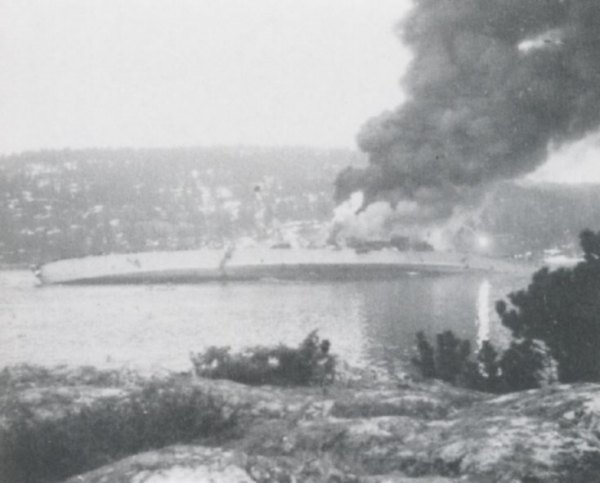 The Blücher sinking.
---
LINE DRAWINGS
(By Abram Joslin)
The Blücher as she looked in April 1940 during Operation Wesserübung.
---
MEN IN COMMAND OF THE BLÜCHER
Commander: Kapitän zur See Heinrich Woldag.
Executive Officer: Fregattenkapitän Erich Heymann.
First Artillery Officer: Korvettenkapitän Kurt-Eduard Engelmann.
Chief Engineer: Fregattenkapitän (Ing.) Karl Thannemann.
---
TECHNICAL DATA
Displacement: standard 14,240 mt, full load 18,200 mt.
Dimensions: overall length 205.9 m, beam 21.3 m, maximum draft 7.2 m, height 12.45 m.
Armour: belt 80 mm, turrets 70-160 mm, upper deck 30 mm, armour deck 30 mm, conning tower 150 mm, torpedo bulkhead 20 mm.
Armament:
• 8 x 20.3cm SK C/34 guns in four double turrets.
• 12 x 10.5cm SK C/33 guns in six double mounts.
• 12 x 3.7cm SK C/30 guns in six double mounts.
• 8 x 2cm guns
• 12 x 53.3cm torpedo tubes in four triple mounts.
Fire control: 5 x 7-m base rangefinders.
Radar equipment: 1 x FuMO 22.
Seaplanes: 3 x Arado ar 196.
Propulsion plant: 12 boilers, three Blohm & Voss turbine sets, 132,000 hp.
Speed: 32.5 knots.
Endurance: 6,800 nm at 16 knots.
Fuel capacity: 4,250 mt.
Crew: 1,600.
---