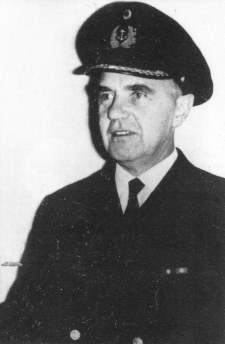 Kapitän zur See Gerhard Junack (1909-1977)
---
Read more about Gerhard Junack aboard the Bismarck here.
Born: 22 August, 1909 in Berlin, Germany.

Died: 1 May, 1977.

Age (at the time of Bismarck's sinking): 31.

Rank (at the time of Bismarck's sinking): Kapitänleutnant (Ing.).

Position: Centre Turbine Room (Section VIII).

Additional notes: Gerhard Junack was born in Berlin in August 1909. His school education lasted from 1915 to 1927, when he served a year's apprenticeship at the Siemens-Schuckert Werke in Berlin. In 1928 he entered the Berlin Technical University, graduating in 1932 as Diplomingenieur (Certified Engineer). Entering the German Navy in 1933, he served as Oberleutnant zur See (Ing.) in the Geleih Flotilla. Later, he was promoted to Kapitänleutnant (Ing.) and assigned to the battleship Bismarck, serving throughout her sinking and becoming a POW after the action. After five years in POW camps first in England and later in Canada, he was released; and from 1947 to 1956 he was chief engineer for a steel construction firm in Hamburg. Gerhard Junack resumed his naval career in 1956, serving with the rank of Fregattenkapitän at Kiel, in the sphere of damage control. Promoted to Kapitän zur See in 1962, he served at Wilhelmshaven as Chief-of-Staff (Logistics), retiring from the navy in January 1966. He died in 1977.