---
---
1/1200 SCRATCH BUILT BISMARCK MODEL
By John Youngerman, Elk Grove, California.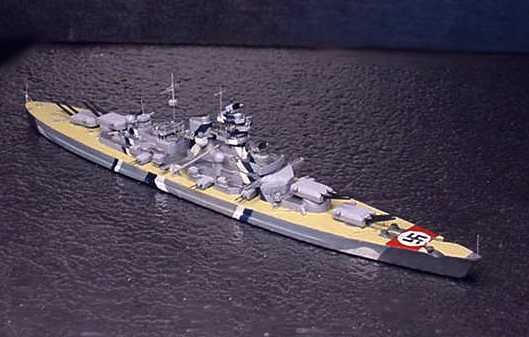 1/1200 Bismarck waterline model built by John Youngerman and owned by Ulrich H. Rudofsky.
---
Model review written by Ulrich Rudofsky.
This is the 1:1200 scale model of BISMARCK, scratch built by John Youngerman. The 1:1200 scale means that the model is only about 21 cm LOA (1 inch = 100 feet); this is the scale of USN and RN recognition ship models and it is slightly larger than the standard 1:1250 Continental European scale ship models made by Neptun, Hai, Argos, Albatros, GEM etc.. BISMARCK has been "mass-produced" by several manufacturers: Neptun, Hansa, Airfix*, Casadio*, Eagle*, Rovex*, Revell*, SU* (* = 1:1200); Neptun also makes exquisite full-rigged or camouflaged special models of BISMARCK. All these models are cast metal. John Youngerman builds his models one-at-a-time from wood and whatever he thinks is appropriate to the scale e.g. paper, wire rod. Our 1:1250 ship model premier web site describes all facets of this addictive hobby of collecting the worlds navies at the 1:1250/1200 scale. Collections like my own (1,500+ ships) are considered "small" among the real collectors. The Youngermans are among my favorite possessions (HMS HOOD, HMS NORFOLK, BISMARCK, GRAF SPEE, BLÜCHER, LÜTZOW, SCHARNHORST, HEIDENKAMP, KARLRUHE, KÖLN, and USS WISCONSIN). They are clearly well-thought-out models of very complex ships that are difficult to make into miniatures. They are works of art in the truest sense. Those in my collection are some of the "earliest" Youngermans, some from the 1960's, i.e., HMS HOOD; thus, the new breed of his models is even more striking and wonderful.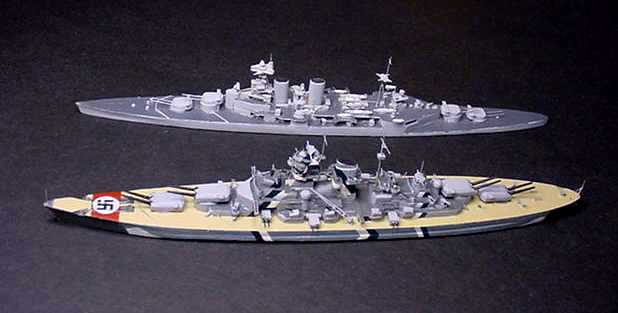 Bismarck together with the first 1/1200 model built by John Youngerman, the Hood. This is now owned by Ulrich Rudofsky too.
Overall, it is entirely possible to amass the entire fleet that was engaged in the sinking of this valiant ship: BISMARCK. The small scale allows you to get the fleet into a small space in your house. This scale is also the choice of wargamers. Anyone wishing information on these miniature ships and how to get them, should contact me (urudofsky@aol.com).

Additional photos.