Burkard von Müllenheim-Rechberg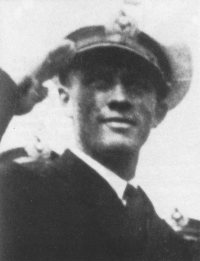 Kapitänleutnant
Burkard von Müllenheim-Rechberg
(1910-2003)
---
Born:
25 June, 1910 in Spandau, Germany.
Died: 1 June 2003.
Age (at the time of Bismarck's sinking): 30.
Rank (at the time of Bismarck's sinking): Kapitänleutnant.
Position (at the time of Bismarck's sinking): Fourth Artillery Officer.
Additional notes: Born in Spandau on June 25, 1910, to a family of strong military heritage, young Burkard joined the Reichsmarine of the Weimar Republic in 1929. Before the war, he served on several warships and as an assistant naval attaché at the German Embassy in London. Back in Germany once World War II started, he served aboard the battleship Scharnhorst and the destroyer Erich Giese. In May 1940, he was assigned to the battleship Bismarck as Fourth Artillery Officer. After Bismarck's sinking, Burkard, the senior officer to survive, was rescued by the British cruiser Dorsetshire and in turn spent the remainder of the war in a POW camp in Ontario, Canada. He returned to Germany after the war, attained a degree in law, and then joined the diplomatic corps of the Federal Republic of Germany. The Baron served abroad as Council General in Canada and as Ambassador to Zaire, Tanzania and the West Indies. Upon retirement in 1975, he and his wife lived in Herrsching am Ammersee in Bavaria. It was then when he wrote "Battleship Bismarck: A survivor's story", a book that has become a literary classic of naval history. He passed away at home on Sunday, June 1, 2003 at the age of 92. The German people and the world as a whole lost a great man in Burkard von Müllenheim-Rechberg. He served his country and humanity well.

Copyright © 1998-2019 KBismarck.com