Günther Lütjens

Admiral Günther Lütjens
(1889-1941)
Born: 25 May, 1889 in Wiesbaden, Germany.

Died: 27 May, 1941 aboard Bismarck.

Age (at the time of Bismarck's sinking): 52.

Rank (at the time of Bismarck's sinking): Admiral.

Position (at the time of Bismarck's sinking): Chief of Fleet.

Promotions:

· 03.04.1907: Seekadett
· 21.08.1908: Fähnrich zur See
· 28.09.1910: Leutnant zur See
· 27.09.1913: Oberleutnant zur See
· 24.05.1917: Kapitänleutnant
· 01.04.1926: Korvettenkapitän
· 01.10.1931: Fregattenkapitän
· 01.07.1933: Kapitän zur See
· 01.10.1937: Konteradmiral
· 01.01.1940: Vizeadmiral
· 01.09.1940: Admiral

Relevant commands:
16.09.1934-23.09.1935: Commander of the light cruiser Karlsruhe.

24.09.1935-15.03.1936: Chief of Staff of North Sea Naval Station (Marinestation der Nordsee) in Wilhelmshaven.

16.03.1936-07.10.1937: Chief of the Personnel Office (Marinepersonalamt) at Naval Headquarters in Berlin.

08.10.1937-20.10.1939: Commander of Torpedo Boats (Führer der Torpedoboote. F.d.T.).

21.10.1939-??.04.1940: Commander of Scouting Forces (Befehlshaber der Aufklärungsstreitkräfte. B.d.A.).

11.03.1940-23.04.1940: Deputy Chief of Fleet (Flottenchef i.V.).

18.06.1940-07.07.1940: Deputy Chief of Fleet (Flottenchef i.V.).

08.07.1940-27.05.1941: Chief of Fleet (Flottenchef).

Additional notes:
In early April 1940, Vice-Admiral Günther Lütjens temporarily replaced Admiral Wilhelm Marschall as Chief of Fleet during the invasion of Norway (Operation Wesserübung). In 9 April 1940, in command of Scharnhorst and Gneisenau, his force briefly engaged the British battlecruiser Renown. On 14 June 1940, Lütjens was awarded the Knight's Cross (Ritterkreuz) for his actions during the Norwegian campaign. Lütjens reputation stood very high within the naval circles, and he had somehow managed to earn Grand Admiral Raeder's trust. On 8 July 1940, Lütjens was appointed as the new Chief of Fleet, and, on 1 September, he was promoted to full Admiral. His rise was meteoric, in exactly nine months from January to September 1940 he had been given the command of the German fleet and promoted twice.
Lütjens most successful action came in the winter of 1941. In a two-month campaign in the North Atlantic (Operation Berlin), his battleship force (Scharnhorst and Gneisenau) sank or captured 22 ships (116,000 tons) before entering Brest on 22 March. This action encouraged Raeder to approve Bismarck's sortie in the spring of 1941, although Lütjens preferred to postpone that mission until the autumn. Operation Rheinübung cost him his life. Admiral Lütjens was last seen in the early morning of 27 May 1941, before Bismarck's final battle with the British battleships.
After the war, Admiral Lütjens was highly recognized. On 11 August 1967, the first German guided-missile destroyer (Zerstörer Lütjens D185) of the Bundesmarine was christened after his name. The ship remained in service after the German reunification and continued to serve in the German Navy until December 2003.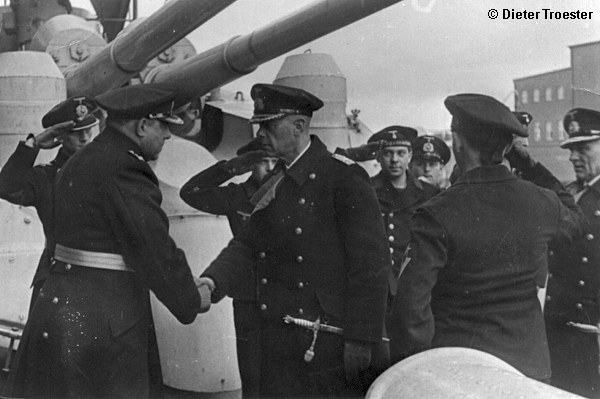 Vizeadmiral (later Admiral) Lütjens aboard the heavy cruiser Admiral Hipper during the Norwegian Campaign in April 1940.
Photo courtesy of Dieter Troester.

Copyright © 1998-2019 KBismarck.com