KRIEGSMARINE MINESWEEPERS
(Minensuchboote)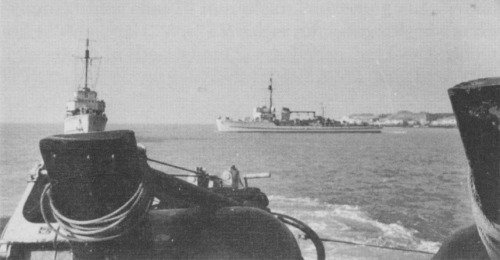 Type 1935 Minesweepers.
---
Over 30 old Type 1916 minesweepers built during the First World War were retained by the Reichsmarine in the 1920s, and later continued in service with the Kriegsmarine. New minesweepers were not ordered until the mid 1930s when the Type 35 was designed.
The main task of the minesweepers was of course to clear minefields, however they also played an important part escorting transports in coastal shipping lanes and other duties. U-boats in particular were usually escorted by minesweepers in shallow waters until they reached the open sea and also on their return back to port. M-boats were very active along the Norwegian coastline, the Bay of Biscay, the English Channel, and the Baltic Sea. Beginning in 1944 some were equipped with FuMO Hohentwiel radar sets in the foremast. Overall, a total of 217 modern minesweepers of three different classes were commissioned, and by the end of the war almost half of them had been lost. Surviving units were distributed among the Allies.
German Minesweepers in World War II.1)
1937-1939
1940
1941
1942
1943
1944
1945
Total
M-boats in service
at the start of the year

15

28

54

99

163

128

M-boats launched

21

26

38

69

35

29

11

229

New M-boats commissioned

15

15

28

48

73

26

14

219*

M-boats lost

-

2

2

3

9

61

26

103
1) Not including the old type minesweepers from World War I.
* M23 and M256 were lost but later salvaged and recommissioned.
_______________________________________________
Minesweeper Classes:
---

Copyright © 1998-2023 KBismarck.com