---
---
AIRFIX 1/600 BISMARCK
By Wm. (Bill) Burns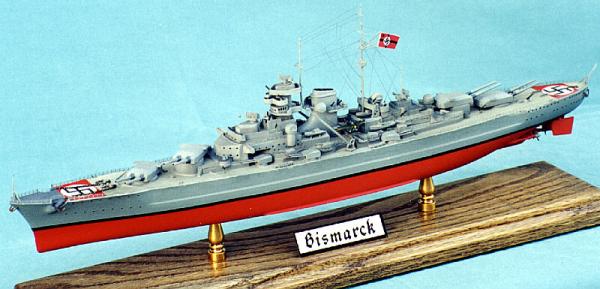 This model is Airfix's 1/600 Bismarck. I used the Gold Medal Models photo-etch detailing set on this ship which included items like railings (it used 5 feet of them!), stairs with hand-rails(16), ladders(lots), a funnel cap, 3 radars, even hooks for the two cranes and oars for the small boats!

During construction I made other improvements like replacing the eight 38cm main gun barrels and the twelve 15cm secondary barrels with hypodermic tubing, representing the anchor chains with very fine chain and all exposed searchlights with small clear jewels (from my model-railroad spare parts box). I drilled out all the portholes and many of the windows. Also the main mast had to be partially rebuilt as the kit mast was missing a few important pieces and then 2 lb nylon fishing line was usd for the rigging and cables for the two cranes.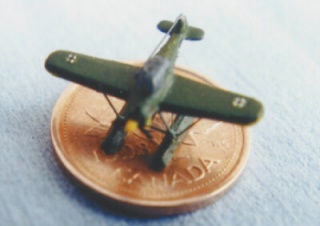 The tiny Arado 196 float plane was a model in itself as it is composed of more than 30 items - 4 plastic, 5 photo-etch, 2 other (for the antenna mast/wire) and 22 individual decals (the correct codes for one of Bismarck's Arado was pieced together from some HO scale model railroad reporting marks and the two-part national insignias came from a decal sheet for 1/285 scale Micro Armor). All this on an aircraft that has a wingspan of only 3/4" and fits neatly on a penny!

I used my computer to create the swastika markings on the deck and the German naval ensign, also for the nameplate on the base. The image of the ships name was captured from actual film footage of Bismarck's launching ceremony showing this sign hanging off the bow railings.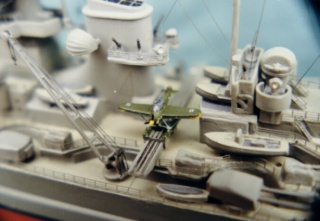 I used Gunze Flat Red and Tamiya Light Sea Grey for the hull, Tamiya Sky Gray for all upperworks, Tamiya Dark Gray for the steel decks and Tamiya Deck Tan for the wooden decks. Very little weathering was needed as this Bismarck model is painted as it appeared during the autumn of 1940 just after her commisioning in August.
---
If you want to see more of Bill's work, check his web site.