THE CREW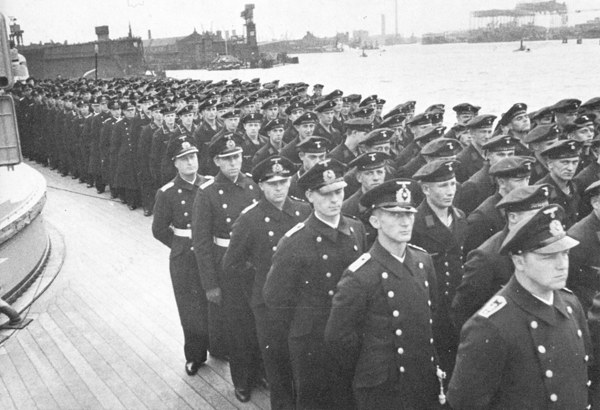 The crew the day of Bismarck's commissioning on 24 August 1940.
---
The crew of the Bismarck was originally comprised by 103 officers (including ensigns), and 1,962 non-commissioned officers and men. A total crew of 2,065 men, although during Operation Rheinübung the actual crew strength totalled more than 2,200, due to the Admiral's Staff, the prize crews, and the war correspondents. The crew was divided in twelve divisions (each consisting of 180-220 men) arranged as follows:
· Divisions 1-4: Personnel for the main and secondary batteries.
· Divisions 5-6: Personnel for the anti-aircraft batteries.
· Division 7: "Functionaries" such as carpenters, stewards, cooks, tailors, cobblers, etc.
· Division 8: Artillery mechanical personnel.
· Division 9: Signal men and radio-telegraphists.
· Divisions 10-12: Engineers, technicians, and stokers.

Bismarck's Officer Corps:
· Commander (Kommandant, K.): Kapitän zur See Ernst Lindemann.
· Executive Officer (Erster Offizier, I.O.): Fregattenkapitän Hans Oels.
· First Artillery Officer (Erster Artillerie Offizier, I.A.O.): Korvettenkapitän Adalbert Schneider.
· Second Artillery Officer (Zweiter Artillerie Offizier, II.A.O.): Korvettenkapitän Helmut Albrecht.
· Navigation Officer (Navigationsoffizier, N.O.): Korvettenkapitän Wolf Neuendorf.
· Chief Engineer (Leitender Ingenieur, L.I.): Korvettenkapitän (Ing.) Walter Lehmann.
· Duty Officer (Rollenoffizier, R.O.): Korvettenkapitän Max Rollmann.
· Intelligence Officer (Bordnachrichtenoffizier, B.N.O.): Korvettenkapitän Kurt-Werner Reichard.
· Electrical Engineer (Elektroingenieur): Korvettenkapitän Wilhelm Freytag.
· Administrative Officer (Zahlmeister / Verwaltungsoffizier, VO): Korvettenkapitän (V) Rudolf Hartkopf.
· Fourth Artillery Officer (IV. Artillerieoffizier, IV.A.O.): Kapitänleutnant Burkard von Müllenheim-Rechberg.
· A.A. Chief Artillery Officer (Leiter der Flak): Kapitänleutnant Karl Gellert.
· First Watch Officer (I. Wachoffizier, I.W.O.): Kapitänleutnant Rudolf Troll.
Fleet Staff:
· Chief of Fleet (Flottenchef): Admiral Günther Lütjens.
· Chief of Staff (Chef des Stabes): Kapitän zur See Harald Netzbandt.
· First Staff Officer (I. Admiralstabsoffizier, I. Asto): Fregattenkapitän Paul Ascher.
· Second Staff Officer (II. Admiralstabsoffizier, II. Asto): Fregattenkapitän Emil Melms.
· Fleet Engineer (Flotteningenieur): Fregattenkapitän (Ing.) Karl Thannemann.
· Fourth Staff Officer (IV. Admiralstabsoffizier, IV. Asto): Korvettenkapitän Hans Nitzschke.
· Physician of the Fleet (Flottenarzt (Dr.)): Hans-Releff Riege.
· Judge Advocate of the Fleet (Flottenrichter): Oberkriegsgerichtsrat (Dr.) Eduard Langer.
· Air Force Liaison Officer (Luftwaffenverbindungsoffizier): Major Fritz Grohe.

---


Copyright © 1998-2021 KBismarck.com